Created and designed by Dr. Yan Pogorelsky

,

Orthosnap aligners address the shortcomings of other aligners currently on the market. Orthosnap aligners require traditional dental impressions rather than 3D images. While this may seem to indicate less advanced technology, the truth is, we recognize the important limitati

ons in technology when it comes to creating

perfectly fitting
clear aligners. Moreover, 3D scanning and printing and computer modeling for tooth motion allow for inaccuracies that undermine treatment.

HOW IT WORKS:
Orthosnap vs. competitors
Unlike other aligner companies, our flexible 'pay-as-you-go'
model ensures you're only paying for the aligners that are used.
ORTHOSNAP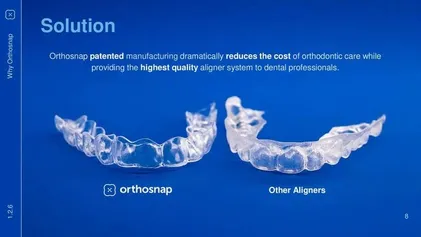 Pay-As-You-Go
Flexible, Step Pricing
Better Patient Compliance
COMPETITORS
Upfront costs
About OrthoSnap:
Not all clear aligners are created equal.
The manufacturing process for 3D printed and CAD-based clear aligners causes inaccuracies due to optical discrepancies and resolution presets that undermine their effectiveness. Orthosnap remedies inaccuracies by using a dynamic physical model (DPM) of the patient's teeth. Each tooth is separated on an independent pin, enabling the movement of individual teeth in a predetermined direction.
Technology at Orthosnap
Orthosnap treatment begins with a PVS record impression from the patient's teeth. Our proprietary manufacturing process produces precise fitting aligners with a superior level of accuracy and movement control over 3D printed aligners. It also reduces costs by 30%, making Orthosnap a compelling alternative to other brands.
Made to Move
The Dynamic Physical Model® is constructed so that each tooth to be moved rests on its own pin. This enables incremental movement of the affected tooth in isolation from the adjacent teeth, enabling full body movements vs. simply tilting the teeth.
How are Orthosnap aligners different?
Orthosnap's patented process enables the aligner to apply more even force across the surface area of the tooth than other aligners. This process results in the most efficient and effective corrective action, leading to better, faster results with fewer treatment steps.
3D printing? No way.
Instead of being 3D printed, our state-of-the-art process crafts your aligners from PVS, a more affordable but higher-quality aligner material.
This lets you:
• Own the most accurate fit to the tooth in the industry
• Save hundreds on cost and time to complete your treatment


Now you see them, now you don't.
Orthosnap aligners move teeth discreetly without being noticed by others. Smooth edges mean greater comfort, with no speech interference or irritation to gums and cheeks.